Move the cat to catch the white mice, hit the blue balloons, but avoid the red ones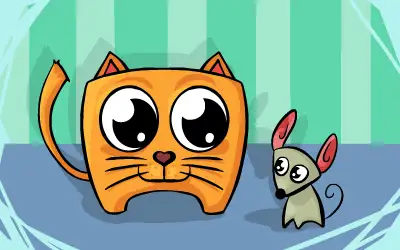 Cat versus mouse game with added balloons for math and fun. You are the ginger cat, and your life is being made a misery by some white mice which have come into the house and are proving hard to catch. Not to mention there is a mouse house party going on and lots of balloons getting in the way of your hunting.
So you have to catch the white mice, forget about the gray mice, hit the blue balloons but avoid the red balloons, and answer math questions (you are a CLEVER cat...). If it sounds complicated and a bit frantic, that's because it is. Do your best but don't worry if you can't catch all the mice - neither can we. It's a cat's life...
UXO * Duck shoot * The frog flies * Pong * Cat and mouse * The beetle and the bee
Rock fall * Four in a row * Sow grow * Choose or lose * Mix and match